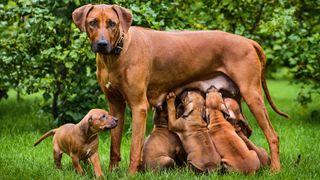 Are there any identical twins in this litter?
One new baby is a handful — but what about two or more? One in 30 parents have their hands full with twins, and nearly one in 10,000 juggle triplets or more, according to U.S. data from the But how unusual is humans' ability to bear multiple young at once, and how often do other mammals have twins, triplets and quadruplets?
In many animals, multiple babies are the norm rather than the exception. For example, the average dog gives birth to five puppies in a litter, according to a 2011 study published in the journal Theriogenology. So, what's the difference between a litter and twins? "It really just comes down to number," said Charles Long, a reproductive physiologist at Texas A&M University. Whereas a set of twins is by definition two babies, litter-bearing animals almost always have more.