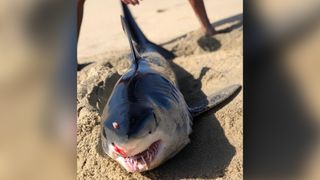 A juvenile shortfin mako shark with a stab wound in his head washed ashore in Los Cabos, Mexico.
On a sunny day in February, a strange sight washed ashore on a beach in Los Cabos, Mexico: a dead shortfin mako shark that had been stabbed in the head.
The weapon was still embedded in the young shark's head, but it's a mystery "whodunnit." Quite a few marine animals have pointy "swords" that they typically wield in self-defense. Based on the size of this particular spike, it could have been a marlin, a sailfish or even a stingray, all underwater inhabitants of the Los Cabos region, said Christopher Lowe, a professor of marine biology and director of the Shark Lab at California State University, Long Beach, who examined photos of the stabbed shark.
Adult mako sharks eat "sword"-bearing animals all the time. What likely happened here is that this juvenile shortfin mako shark (Isurus oxyrinchus) attempted to grab a meal but was unsuccessful, Lowe said. "This one was a young one — probably inexperienced and trying to take on prey that it wasn't really ready for," Lowe told Live Science.
Adult shortfin mako sharks can reach 12 feet (3.8 meters) in length and weigh at least at least 1,200 pounds (545 kilograms). But these sharks are born at about 3 feet (1 m) long, and this shark is only a bit longer than that, according to its photo, which is about the size of a 3-foot-wide (1 m) adult stingray.
The incident happened on Feb. 18, according to Arturo Chacon, who spotted the shark when he was walking along the beach in San José del Cabo, which, along with Cabo San Lucas, is known as Los Cabos, a popular tourist destination in northwestern Mexico. "It looked like it was fresh or that it lost its life not too long ago," Chacon, the owner and CEO of Tag Cabo Sportfishing, told Live Science.
He snapped a few photos of the shark and posted them on Instagram, writing, "A shark that washed out on the beach in San Jose del Cabo. Apparently because it lost a battle with a big stingray! Woow!"
While it's not clear what animal stabbed the shark, stingrays do have serrated, pointy spines. If it was a stingray, it was likely a pelagic stingray (Pteroplatytrygon violacea), a creature with a dark purplish to gray underside and a defensive spine, also known as a barb, on its tail that it uses to impale animals threatening it, Lowe said. The pelagic stingray lives in the open water, and its habitat overlaps with that of the shortfin mako shark, Lowe noted.