While wool accounts for only about 30% of his income, Free State farmer Le Roux Fourie views it as a crucial element in his cropping and livestock operation. He spoke to Sabrina Dean about the value of this commodity, especially in light of its consistently high price.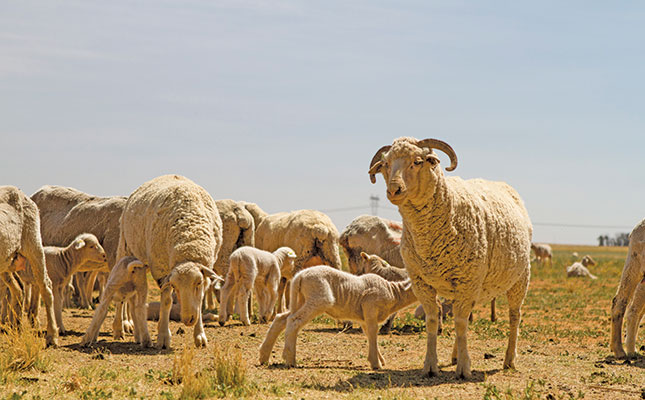 Le Roux Fourie, who farms in the Brandfort district of the Free State, believes that the only way to produce more is by optimising resources to unlock their full value. In a summer cropping area, he says, the best way to achieve this is through a sheep component, specifically wool sheep.
"Brandfort is involved in cropping, but we don't have high-potential lands. We're more marginal than places where they have so-called water-table lands," he explains.
Therefore, rather than trying to compete in the high-risk and variable cropping business, he uses his cropping component to add value to his sheep production.
"My view is that with different practices, such as bringing in wool sheep, I'll be able to optimise those lands."
A stable product line
According to Fourie, wool can serve as a "stabiliser" to the up-and-down business of cropping; put another way, he uses his wool component as a way of hedging against risk. This method is used by most retailers.
"If you look at a retail business plan, the owners always have a product line that brings stability to the business. They want that consistency: the bread, milk and eggs for which customers come into the shop every day. You want to bring something like that into your farming operation too."
He views his sheep component as a best-of-both commodity as its provides two products: meat and wool. His meat income is driven largely by domestic demand.
"Wool is priced on the international market. It's also a niche product at this stage, and it's always good to have a niche product."
Variety of crops
Fourie's sheep operation comprises a Merino stud and a commercial herd. He also operates a feedlot and does backgrounding of wethers on croplands when the right opportunity presents itself.
Approximately one-third of his lands are used to produce cash crops such as yellow maize, sunflower and wheat. The other two-thirds comprise grazing, grain crops or green feed, which he plants for the sheep.
"We grow grazing maize, feed sorghum, cow peas, radishes and oats. I'm also in the process of re-establishing dryland lucerne, and plant a lot of teff to use in the lambing system and the feedlot."
He uses some of the crops in his feed mixes, and sells the surplus to a nearby chicken farm.
He prefers planting maize rather than sunflower in summer, as this also provides residue for the sheep to graze.
However, if climate challenges dictate, he plants sunflower.
"I planted maize late this year. I didn't harvest much, but the residue is of cardinal importance in the business. It fits into our entire winter feed process."
Stud and commercial
The stud and commercial ewes run together on the veld, and are managed in line with a feed flow management system that includes factors such as carrying capacity, rainfall, the feed potential of a land, and at what stage of gestation the sheep is at. High-potential ewes receive special treatment.
"If a ewe has been scanned with triplets, then I look after her," explains Fourie. "I might put her on a ration by placing her on a feed land with good potential, or place her in a smaller camp.
"There are two approaches. In one, you take the feed to the sheep. In the other, you take the sheep to the feed, which is why it's useful to have croplands as part of a feed system."
Ewes scanned with single lambs lamb on the veld, regardless of whether they are part of the stud or the commercial flock.